by: Deanna Murphy
U.S. Olympic team. U.S. Davis Cup team. U.S. Hopman Cup team. Laver Cup. World TeamTennis. Jack Sock doesn't just gravitate toward team format tennis, he thrives in it. "I love being part of the team," says Sock. "As an individual athlete, we don't have many opportunities to be part of a larger team. It's always a really special moment when you can have your teammates on the side, cheering for all of us to get the W. It's really motivating to know you are out on the court for yourself and the rest of your team."
After securing a second King Trophy in 2020 with the New York Empire (he won his first in 2018 with the Springfield Lasers), Sock will return this November to defend the team's championships status. "WTT is so great because you get the chance to really bond with your teammates and compete for something that isn't just for yourself. Plus, it's a lively event, the fans are always cheering, it's just overall been a great atmosphere to play in for me," he says.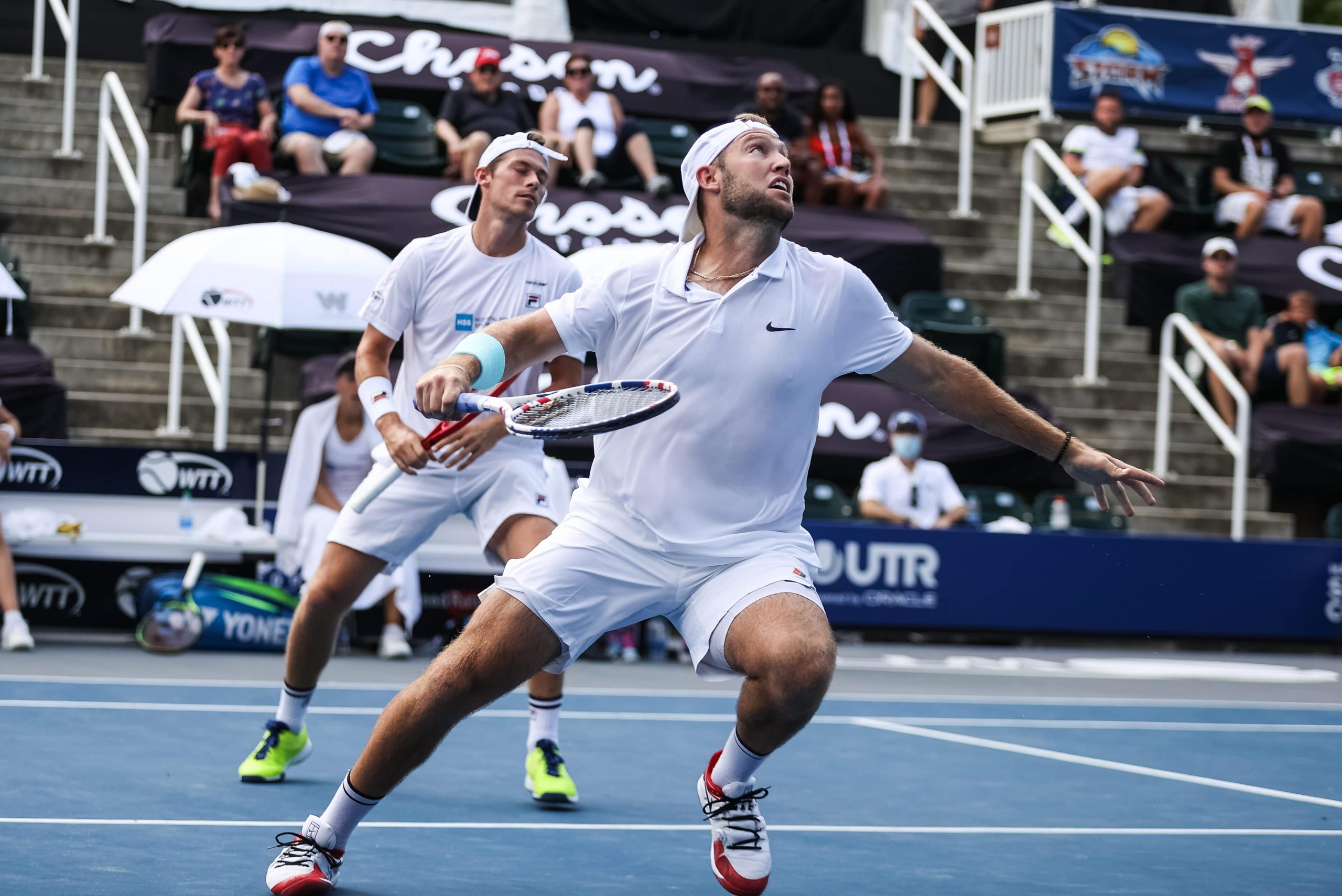 Rejoining the Empire is part of a greater return for Sock as he resumes a pro career halted by a 2019 thumb surgery. The timing of the injury was devastating, taking him off the courts on the heels of achieving career-high rankings in both singles (World No. 8) and doubles (World No. 2). Through all that was lost, however, Sock gained something more. "My number one goal is to stay healthy," he says. "After experiencing an injury that forced me to take some time away from playing, it gave me perspective on how important it is to take care of your body."
He's also experienced some significant change on another, more personal front: Sock married Laura Little in December 2020. "It's incredible to have Laura as my support system and know she is rooting for me day in and day out," he says. Having his wife in his corner might be exactly what he needs as he works his way back to the top — she was in the crowd to see Sock win the Little Rock Open on June 6, his first singles title since the Paris Masters in November 2017. "It was an awesome experience to win the title with her there," he beams.
View this post on Instagram
The win in Little Rock adds to a résumé already stacked with not just singles titles, but doubles and mixed doubles as well. His last doubles trophy on the ATP Tour came at the Nitto ATP Finals at the end of a blockbuster 2018 that brought a total of six titles, half of which (Wimbledon, the U.S. Open, and the ATP Finals) were clinched with partner and doubles legend Mike Bryan. "Mike and I have a great tennis history together and are good friends," says Sock of his onetime partner. "Mike and Bob [Bryan] are clearly some of the best doubles players in history so I have a lot of respect for them on and off the court." Representing the United States at the 2016 Rio Olympics, Sock picked up two medals — a bronze with partner Steve Johnson, and mixed doubles gold with Bethanie Mattek-Sands. It's a well-rounded record of play that makes Sock the quintessential WTT player.
Like so many other tour veterans, Sock looks forward to returning to the Indian Wells Tennis Garden, home of the BNP Paribas Open that will also host the entire season of World TeamTennis this November. The sunny SoCal tennis mecca is one of the most popular stops of the year, so the opportunity to return for WTT is a highly anticipated perk for the league's players. "Indian Wells is one of my favorite tournaments of the regular ATP schedule and I'm really looking forward to changing it up a bit, bringing my wife and family out there to enjoy some World TeamTennis in the desert!"
Until then, Sock maintains a head-down work ethic that's driven him to so much success throughout his career, from Olympic medals to Grand Slam titles to WTT King Trophies. "Obviously, the world and the tennis schedule is still being affected by COVID-19," he acknowledges, "but my goal is to continue to keep playing in events, move up the rankings, and do what I love to do."